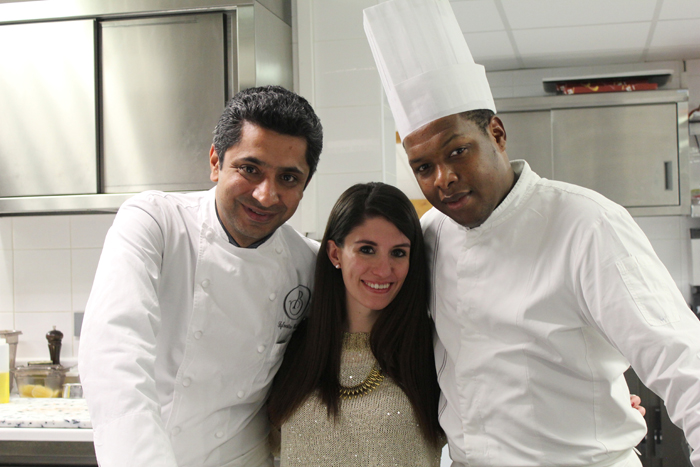 During our stay at "Le Strato" Hotel in Courchevel 1850, we enjoyed the delicious Jean-André Charial's restaurant: the "Oustau de Baumanière" a 2 Michelin star. His , Sylvestre Wahid has created a Mediterranean-inspired menu with a touch of alpine influence, using succulent ingredients such as turbot, black truffle, Galician sea urchin, Alaskan giant crab …
We started with some appetizers of salmon tempura, cream of celery and celery mousse with lobster. Then we tasted a lobster with a thinly sliced crayfish, on a slightly jellied bouillon of rockfish, with purple sea urchins, flavored with fennel and lemon caviar, accompanied with a Château Lamartine 2007.
We continue with a water pike-perch on a bed of winter leeks, warm  black truffle vinaigrette and crayfish from Leman's Lake . Also a spicy veal, accompanied by couscous with fine herbs and coriander. Instead of meat, I chose sea scallops with black truffle.
Finally,  a selection of delicious cheeses, as Livarot or Munster. And, for dessert a succulent Williams Pear's in the  "Baumanière" way.
In addition, I had the opportunity to meet the chef, Sylvestre Wahid, and his first assistant Louis Philippe Vigilant, and see how his team works in his impressive kitchen.
I hope you enjoy the pictures … I'm looking forward to coming back!
Bon appétit!