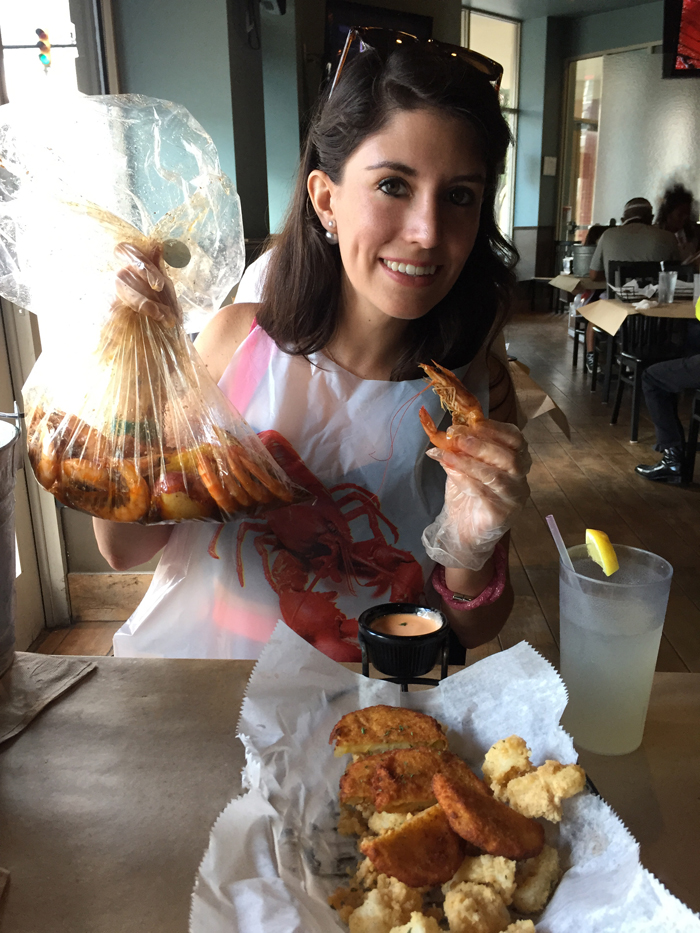 People who know me know how much do I love seafood. It is therefore not surprising that "Chasin 'Tails" has become one of my favorite restaurants in the Washington area (Arlington, Virginia).
It's a different and fun restaurant. His motto: "no plates, no forks, no rules" At least, you get a bib and plastic gloves to protect you =)
Basically you choose what kind of seafood you want to eat, they serve it by pounds, inside a plastic bag, freshly boiled on Cajun style with a corn on the cob. It's delicious! We ordered fried calamari, a pound of shrimp "Bayou N 'a Bag", and for dessert, we could not miss the typical beignets with guava sauce =)
Its owner, a former poker player, used to spend summers in Louisiana when he was a child. Longing the hospitality of the people, and the Cajun food, he began to frequent Cajun food restaurants in the DC area. He found delicious gumbos and jambalayas, but could not find a place to eat freshly boiled seafood, getting his "hands dirty", as he did with his family when he was younger.
So he decided to invest part of his poker profits in creating this nice restaurant, thanks to which we can now enjoy the authentic traditions of Louisiana Cajun food and "get our hands dirty" with the best seafood.
La gente que me conoce sabe cómo me encanta el marisco. Por eso, no es de extrañar que "Chasin' Tails" se haya convertido en uno de mis restaurantes favoritos en la zona de Washington (Arlington, Virginia).
Es un restaurante muy divertido y diferente. Su lema: "no hay platos, no hay cubiertos, no hay reglas". Al menos, te dan un babero y guantes de plástico para protegerte =)
Básicamente eliges el marisco que deseas comer, lo sirven por libras, dentro de una bolsa de plástico, recién hervido con salsa cajún y acompañado de maíz. ¡Está delicioso! Nosotros pedimos calamares fritos, una libra de gambas "Bayou N' a Bag", y de postre, no podían faltar los deliciosos beignets con salsa de Guayaba =)
Su dueño, un antiguo jugador de póker, solía pasar los veranos en Luisiana cuando era niño. Añorando la hospitalidad de la gente, y la comida Cajún, empezó a frecuentar restaurantes de comida Cajún en la zona de DC. Encontró deliciosas sopas de gumbo y jambalayas, pero no encontraba un sitio donde comer el marisco recién hervido, ensuciándose las manos, tal y cómo él hacía de pequeño con su familia.
Así pues, decidió invertir parte de sus ganancias en montar este lindo restaurante, gracias al cual, hoy podemos disfrutar de las auténticas tradiciones de la comida Cajún de Luisiana, y "ensuciarnos las manos" con el mejor marisco.