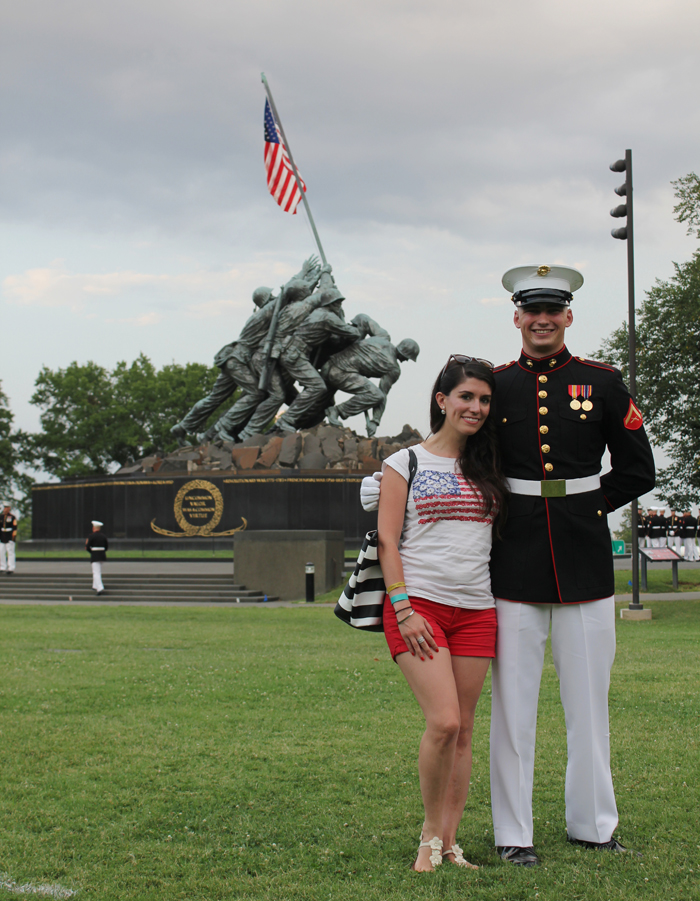 On Nov. 10, 1954, the 179th birthday of the United States Marine Corps, a bronze monument modeled after the famous photo of the flag raising on Mount Suribachi, Iwo Jima, was unveiled at the Arlington National Cemetery. President Dwight D. Eisenhower dedicated the U.S. Marine Corps War Memorial to all Marines who had died to keep their country free.
Since September 1956, marching and musical units from Marine Barracks, Washington, D.C., have been paying tribute to those whose "Uncommon valor was a common virtue" by presenting Sunset Parades in the shadow of the 32-foot high figures of the United States Marine Corps War Memorial.
A one hour performance, the Sunset Parade features the music of "The Commandant's Own", The United States Marine Drum and Bugle Corps and precision drill by the Marine Corps Silent Drill Platoon. The Sunset Parades are conducted on Tuesdays only from May to August.
For the occasion I was wearing my American flag t-shirt, combined with red shorts and these flowers sandals.  Hope you like the pictures!  You can also watch a video of the parade
here
.
El 10 de noviembre de 1954,  coincidiendo con el 179 aniversario del Cuerpo de Marines de Estados Unidos, un monumento de bronce inspirado en la famosa foto del izamiento de la bandera en el monte Suribachi, Iwo Jima, se construyó en el Cementerio Nacional de Arlington. El presidente Dwight D. Eisenhower dedicó el Memorial de Guerra del Cuerpo de Marines a todos los marines que habían muerto para mantener su país libre.
Desde septiembre de 1956, formaciones musicales y de marcha de los cuarteles de los Marines de Washington DC, rinden homenaje a aquellos cuya "valentía fuera de lo común era una virtud común" mediante el desfile de la puesta del sol a los pies del monumento de bronce de casi 10 metros de altura.
El desfile, de una hora de duración, cuenta con la música de "The Commandant's Own", "The United States Marine Drum" y el "Bugle Corps and precision drill" . Se lleva a cabo todos los martes desde Mayo hasta Agosto.
Para la ocasión elegí mi camiseta con la bandera americana, combinada con pantalones cortos de color rojo y sandalias de flores. Espero os gusten las fotos! También podéis ver un video del desfile
aquí
.