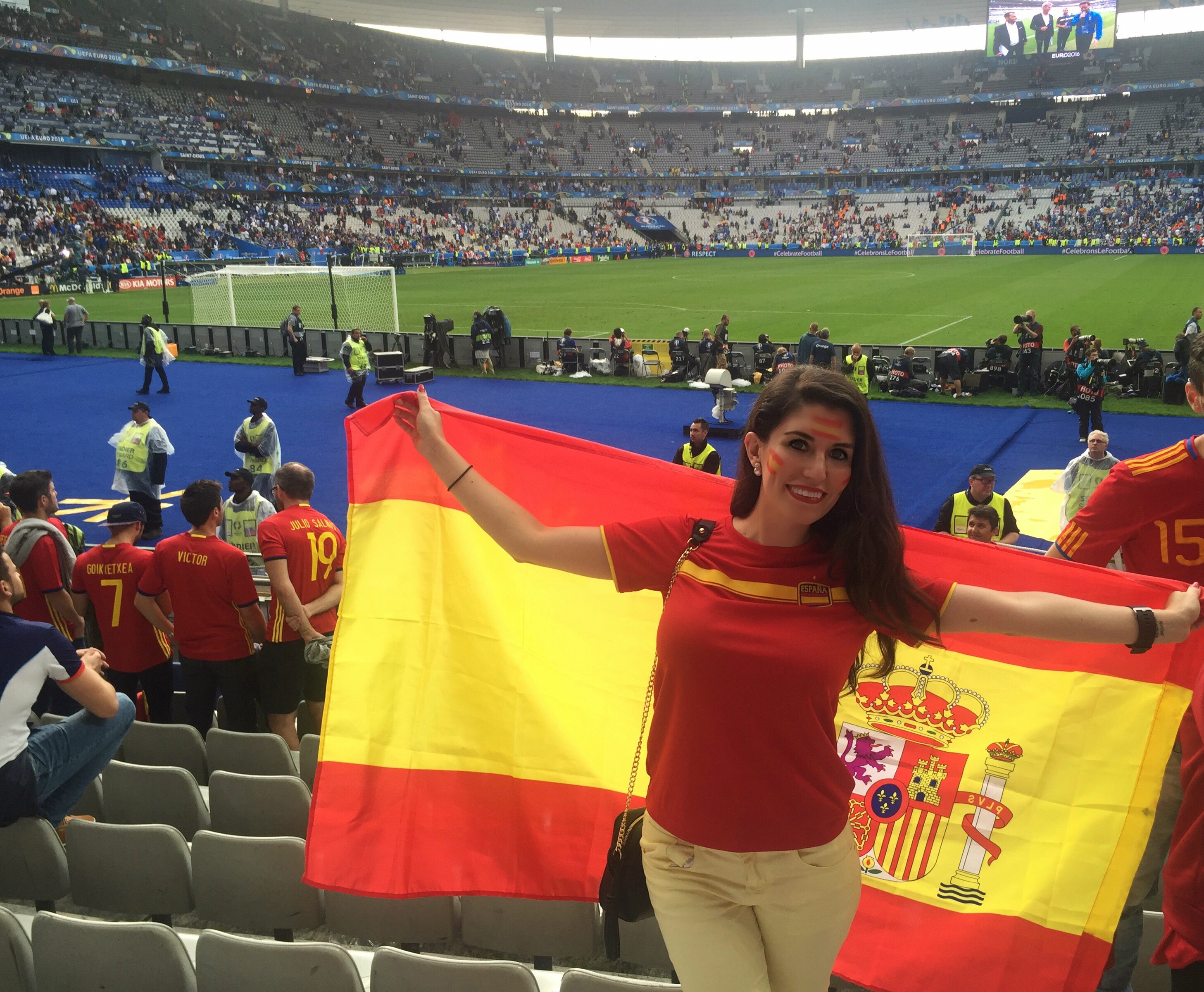 Good morning from Paris!
The City of Light has become the European soccer city this month, as the Euro 2016 main host. It's amazing the good international atmosphere in the city. Far from the riots of some fanatics in Marseille, here these days, you can see the coexistence of many nationalities united by the sport.
On Monday I was lucky enough to attend the round of 16 at Stade de France, Saint Denis, for the match Italy vs Spain. Although Spain lost (2-0) and was eliminated, it was amazing to enjoy live and direct my selection at the Stade de France stadium, and especially live the good atmosphere and the support of the fans. The energy given off by 80,000 people excited by the same event is just magic and unique!!
In the times we are living, I think it's more important than ever to enjoy events like this that join nations that make us vibrate together, that inspire us to share, and that tear down social barriers.
Besides soccer, there are many parallel cultural events such as the concert of Muse, last Tuesday at the Eiffel Tower, as could you see in my Snapchat (@dianadazzling) and next week we will have the Electro Summer, with the best DJs like Afrojack, Robin Schulz, Cassius, Bob Sinclar …
Here you have some pictures of my first experiences at Euro 2016. As you can see I picked a very patriotic outfit to support my team, with pastel yellow Diesel jeans, Spain t-shirt, and Nike sneakers. I hope you like the pictures,and let's continue enjoying this great party … and may the best win! =)
¡Buenos días desde París!
La ciudad de las luces se ha convertido este mes en la ciudad europea del fútbol, al ser la sede principal de la Eurocopa 2016! Es increíble el buen ambiente internacional que se respira en la ciudad. Lejos de los disturbios de algunos fanáticos en Marsella, aquí durante estos días se puede ver la convivencia entre muchas nacionalidades unidas por el deporte.
El lunes tuve la suerte de asistir a los octavos de final, en Stade de France, Saint Denis, para el partido Italia vs España.  Y, a pesar de que España perdió (2-0) y fue eliminada, fue increíble disfrutar de mi selección en directo, en un estadio como Stade de France, y sobre todo vivir el buen ambiente y el apoyo de la afición. La energía que desprenden 80,000 personas emocionadas por un mismo acontecimiento es única!!
En los tiempos que estamos viviendo, creo que es más importante que nunca disfrutar de eventos como éste, que unen a las naciones, que nos hacen vibrar juntos, que nos inspiran a compartir, y que derriban las barreras sociales.
Además del fútbol, hay muchísimos eventos culturales paralelos, como el concierto de Muse, el martes pasado en los pies de la Torre Eiffel, como pudisteis ver en mi Snapchat (@dianadazzling)  y la semana que viene tendremos el Electro Summer, con los mejores Dj's, como Afrojack, Robin Schulz, Cassius, Bob Sinclar…
Aquí os dejo unas fotos de mis primeras experiencias en la Eurocopa 2016. Como veis elegí un outfit muy patríotico para apoyar a mi selección, con pantalones amarillo pastel de Diesel, camiseta de España, y zapatillas Nike. Espero que os gusten las fotos, que sigamos disfrutando de esta gran fiesta…y que gane el mejor! =)