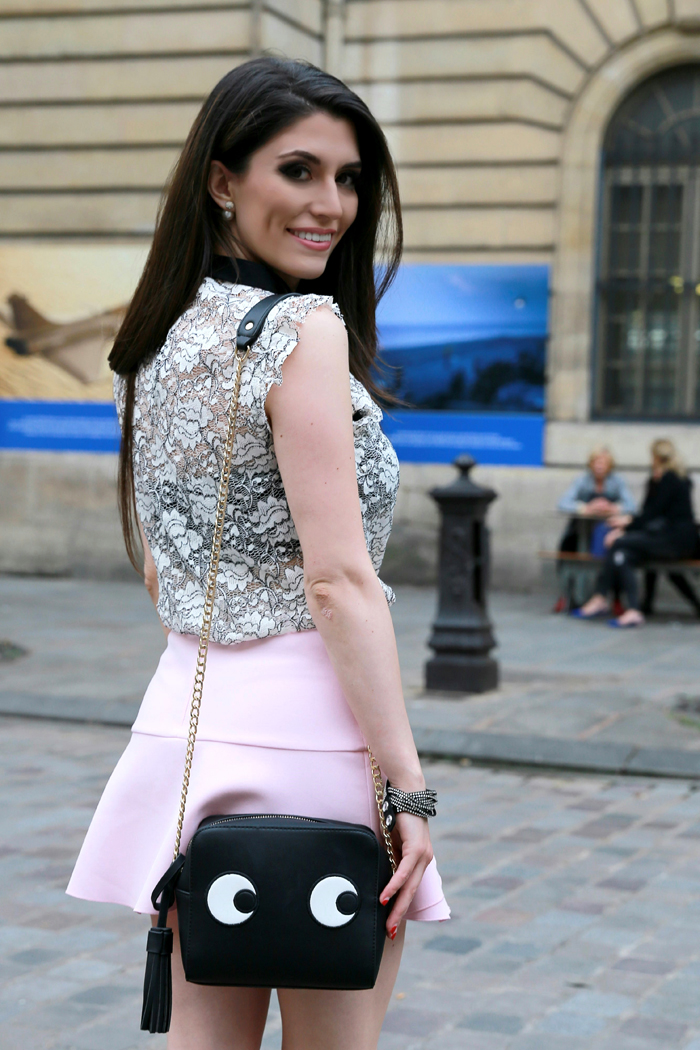 Intense second day of the Haute Couture Fashion Week, with Schiaparelli, Iris Van Herpen, Christian Dior, Ralph & Russo, Giambattista Valli and Tony Ward shows.
I picked a comfortable yet chic look 😉 A pastel pink mini skirt combined with a lace lingerie top and silver sandals with wooden platform … super comfortable! And of course my bag who doesn't lose any detail … because four eyes can see more than two! =)
We ended the day at Silencio club, where Iris Van Herpen threw a party and presented the film "The Dress" directed by Barnaby Roper.
I hope you like the pictures! What is your favorite designer?
xoxo!
Segundo intenso día de la Haute Couture Fashion Week, con los desfiles de Schiaparelli, Iris Van Herpen, Christian Dior, Ralph & Russo, Giambattista Valli y Tony Ward.
Para esta jornada tan cargada elegí un look cómodo pero chic 😉   Una mini falda rosa pastel combinada con un top lencero de encaje, y sandalias plateadas, con plataforma de madera…súper cómodas!  Y mi bolso que está atento a todo, para que no me pierda ningún detalle….porque cuatro ojos ven más que dos! =)
Terminamos el día en el club Silencio, donde Iris Van Herpen organizó una fiesta y presentó el film "The Dress" dirigido por Barnaby Roper.
Espero que os gusten las fotos! ¿Cuál es vuestro diseñador favorito?
Besos!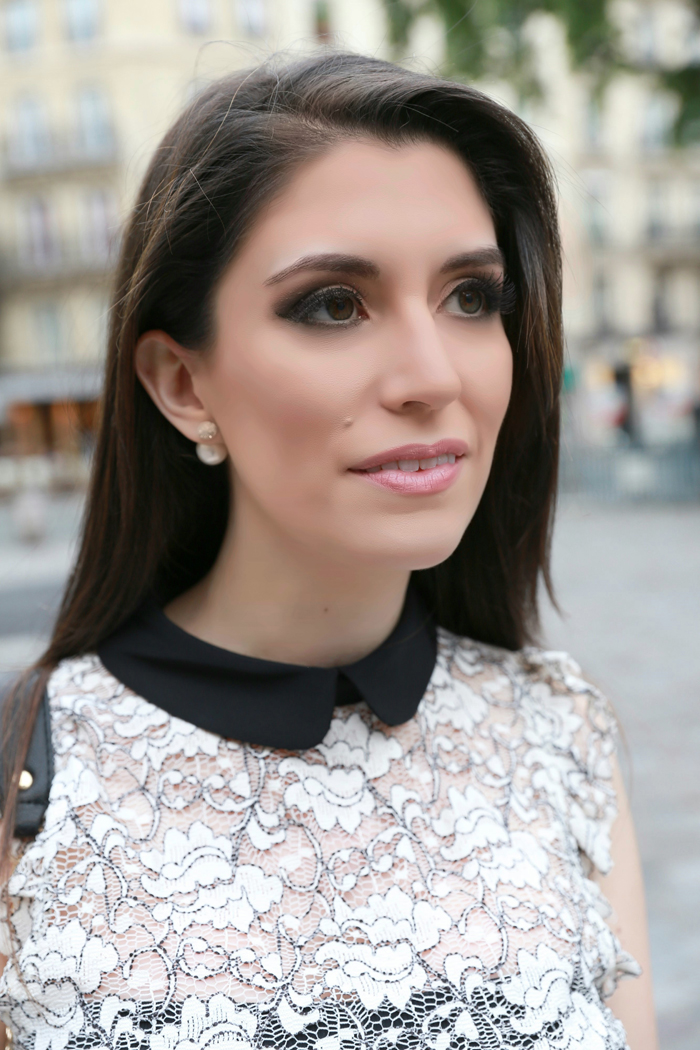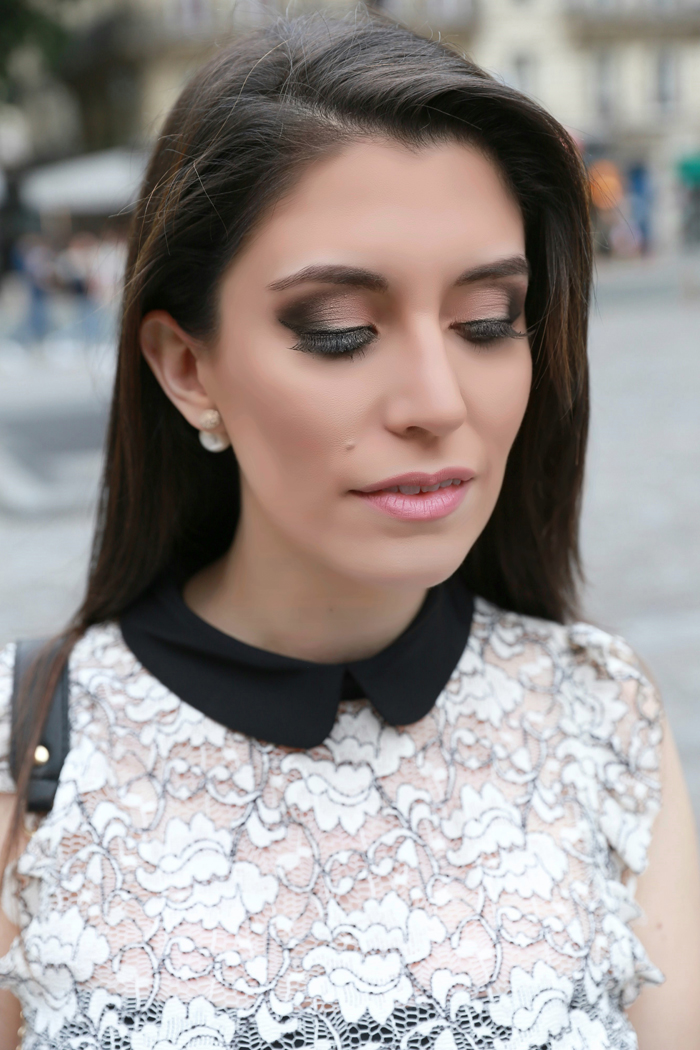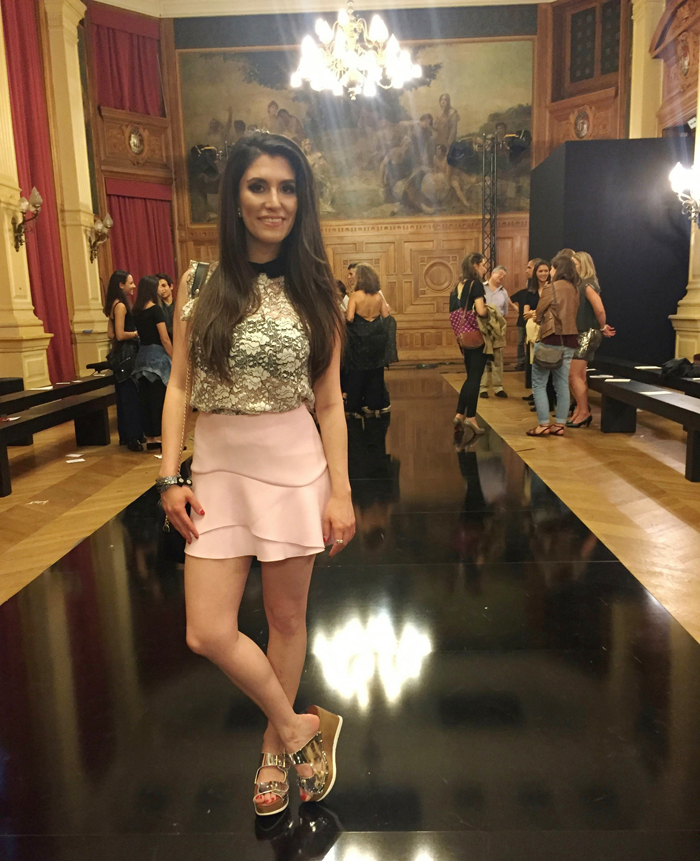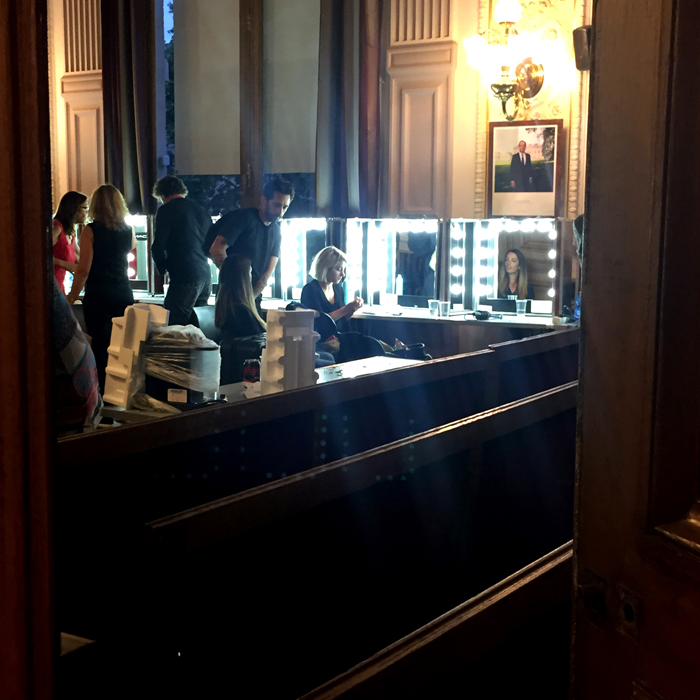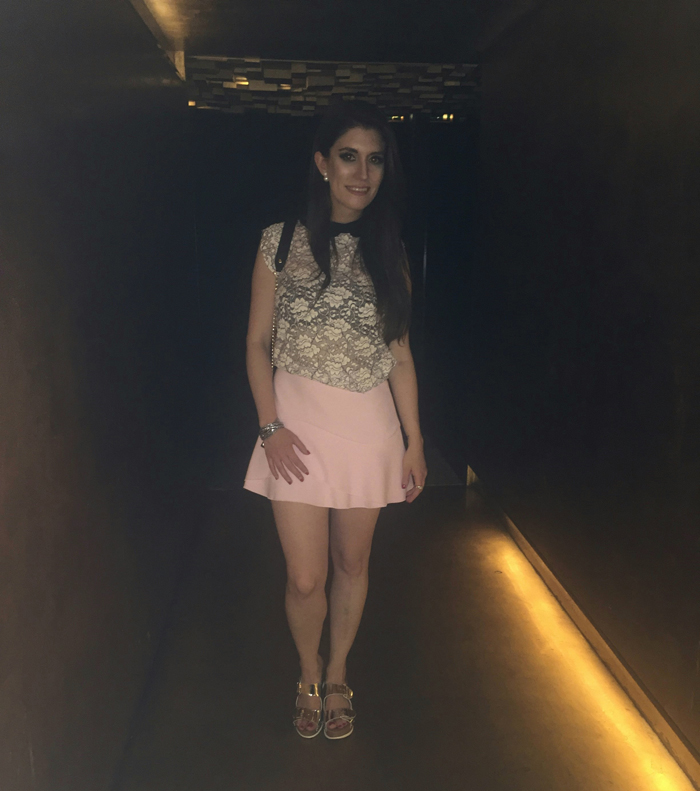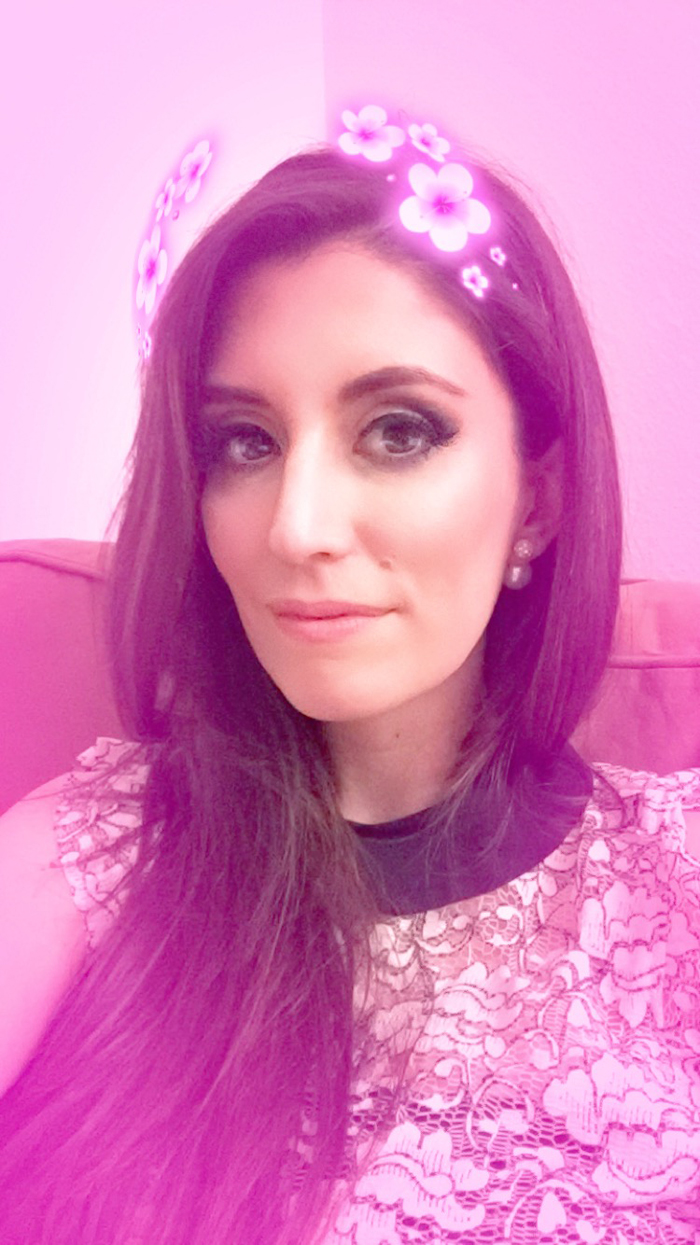 Schiaparelli presented an original collection inspired by the world of circus and the fantasy, based on the famous "Cirque" collection of Summer 1938, with asymmetric cuts, dislocated shoulders and geometric shapes.
Schiaparelli presentó una colección muy original inspirada en el universo del circo y el mundo de la fantasía, basándose en la famosa colección "Cirque" del verano de 1938, con cortes asimétricos, hombros desencajados y formas geométricas.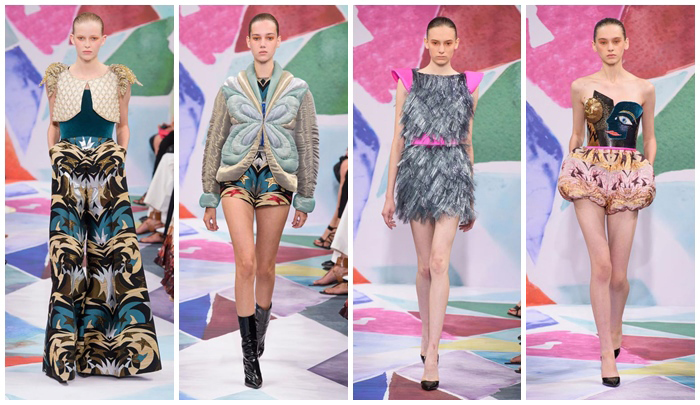 Iris Van Herpen chose Louvre's chapel to present their collection, accompanied by Japanese musician Kazuya Nagaya. Delicate dresses for a futuristic nymph made by pleated organza, tulle, silicone bubbles, silver leaves … that fascinated all attendees.
Iris Van Herpen eligió la capilla del Louvre para presentar su colección, acompañado del músico japonés Kazuya Nagaya. Delicados vestidos de ninfa futurista a base de organza plisada, tul, burbujas de silicona, hojas de plata…que fascinaron a todos los asistentes.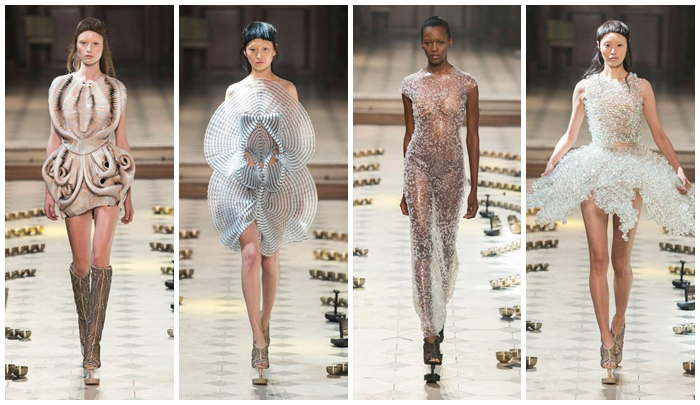 Dior presented their collection in their salons at avenue Montaigne. Exclusively in black and white, referring to the famous Mr. Dior Bar jacket. Silk, crepe, pleated Fortuny, cross taffeta, draped dresses, organza, and some gold embroidery, all combined with flat sandals.
Dior presentó su colección en sus salones de la avenue Montaigne. Exclusivamente en blanco y negro, haciendo referencia a la famosa chaqueta Bar del señor Dior. Seda, crepe, plisado Fortuny, tafetán cruzado, vestidos drapeados, milhojas de organza, y algunos bordados dorados, todo combinado con sandalias planas.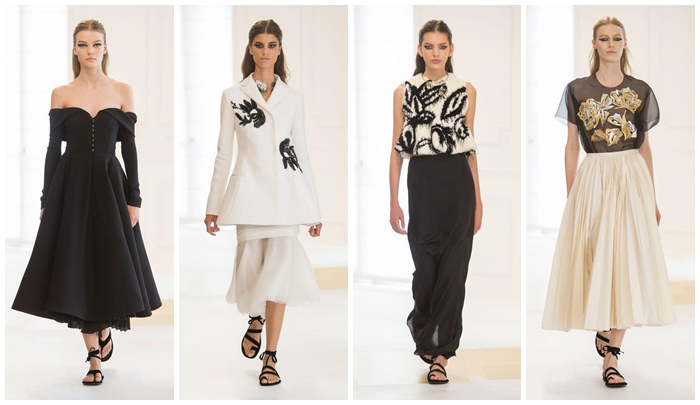 Ralph & Russo or what is the same, Tamara Ralph and Michael Russo, were inspired by nature, flowers and dragonflies, to sculpt stunning dresses with volumes and embroidery care to the smallest detail.
Ralph & Russo o lo que es lo mismo, Tamara Ralph y Michael Russo, se inspiraron en la naturaleza, en flores y libélulas, para esculpir impresionantes vestidos con volúmenes y  bordados cuidados hasta el más mínimo detalle.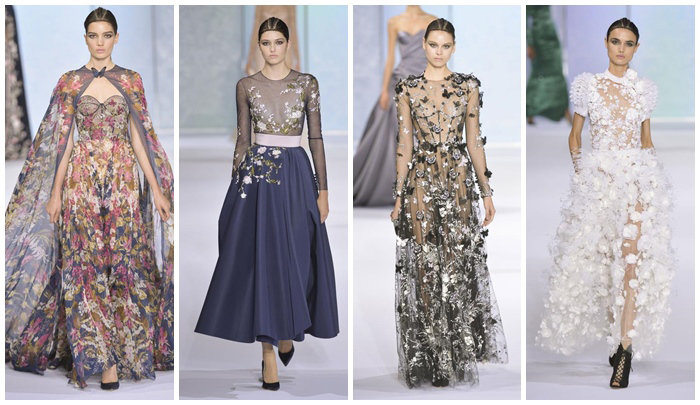 Giambattista Valli invited us to the Grand Palais to present their latest collection. Romantic and pictorial, mixing the extravagance of their volumes with the richness of its materials: silk taffeta, duchess satin, mink…
Giambattista Valli nos invitó al Grand Palais para presentarnos su última colección. Romántica y pictórica, mezclando  la extravagancia de sus volúmenes con la riqueza de sus materiales: afetán de seda, satén duquesa, visón…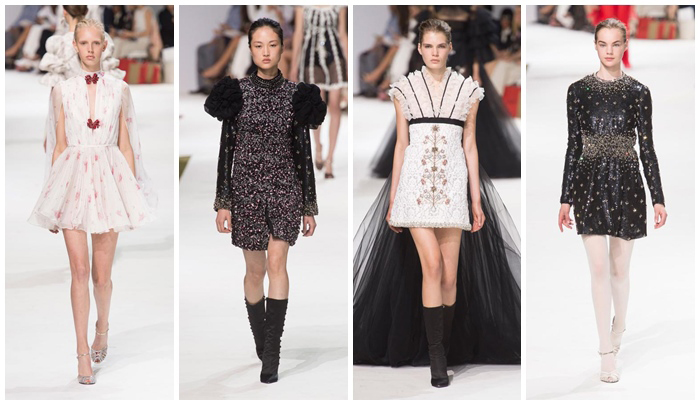 And last but not least, Tony Ward draws his inspiration from the wild beauty of a majestic, imperial bird. He sheds the light on a rebellious and pure woman whose duality appears in its entire splendor. Opulence and delicacy are key in this collection rich in contrast, where, just like in a feather, supple and rigid volumes harmoniously coexist. We loved his collection! <3
Tony Ward fue el último desfile del día y nos dejó muy buen sabor de boca.  Para su colección se inspiró en la belleza salvaje de un ave majestuosa e imperial. Nos presenta una mujer rebelde y pura cuya dualidad aparece en todo su esplendor. La opulencia y la delicadeza son clave en esta colección rica en contrastes, donde, al igual que en una pluma, los volúmenes flexibles y rígidos coexisten en armonía.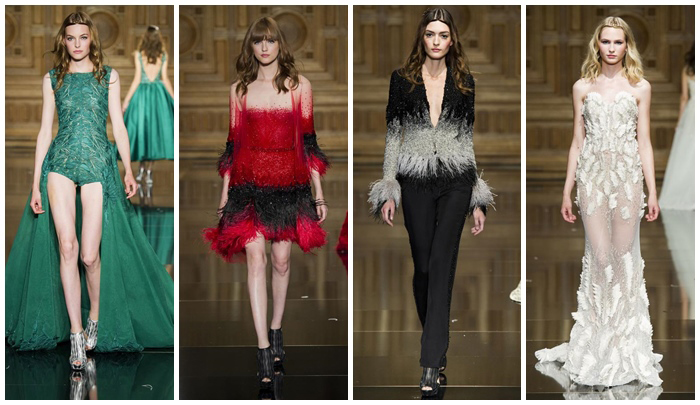 Make up & hair by: Glamizaa
Photos by:  Isabel Morales