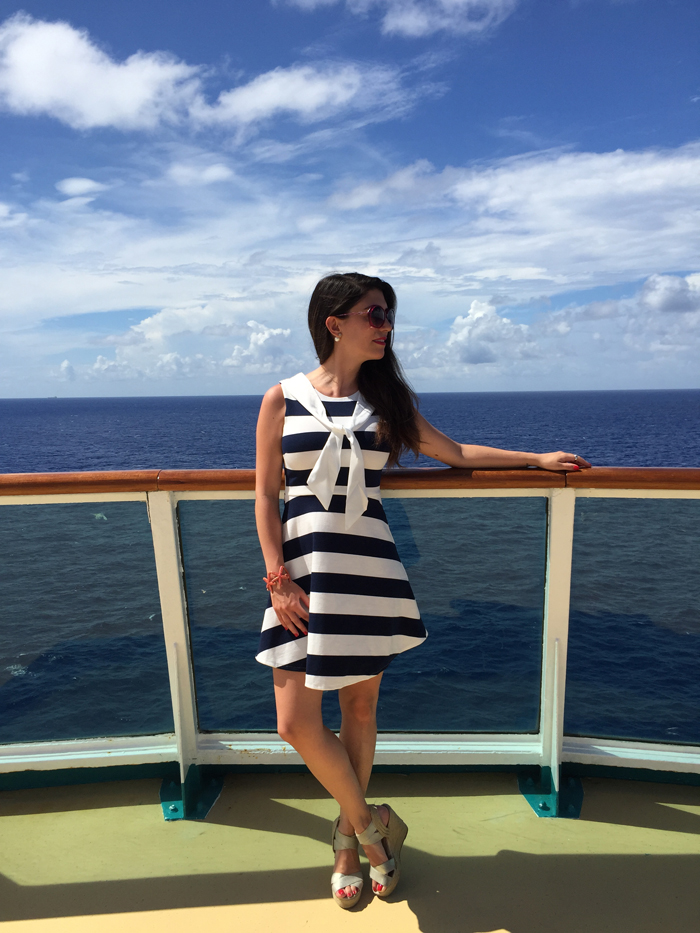 Sometimes you have to lose yourself to find yourself. I like to sail and "get lost" in the infinity of the sea.
Here you have some pictures sailing across the Atlantic Ocean with a nautical look. The dress is very elegant and comfy at the same time, I love it! It's from SheInside and you can find it here. I combined it with a starfish bracelet from Sfera that my dad gave me,  Dior earrings, Swarovski fuchsia sun glasses and golden Castañer wedges.
I hope you like the pictures =)
"She loves the serene brutality of the ocean, loves the electric power she felt with each breath of wet, briny air" ― Holly Black
A veces necesitas perderte para encontrarte a ti mismo.  A mí me gusta navegar y "perderme" en la infinidad del mar.
Aquí os dejo unas fotos navegando por el Océano Atlántico con un look muy marinero. El vestido es muy elegante y cómodo a la vez, ¡me encanta! Es de SheInside y lo podéis encontrar aquí. Lo decidí combinar con una pulsera de estrellas marinas de Sfera que me regaló mi papá, pendientes Dior, gafas de Sol fucsias de Swarovski y unas cuñas doradas de Castañer. Espero que os gusten las fotos =)
"A ella le encanta la brutalidad serena del océano, le encanta la energía eléctrica que sentía con cada bocanada de aire húmedo, salado."― Holly Black