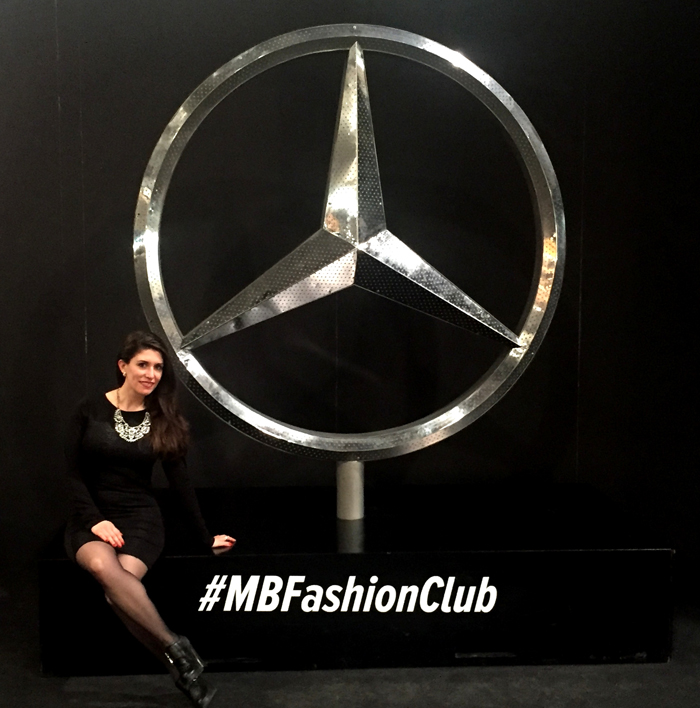 Welcome to Mercedes Benz Fashion Week Madrid! As Official Blogger of MBFW and Telefonica Instagramer, I have lived 5 intense days, where I could soak up all the Spanish fashion and trends for fall-winter 2016/17. I have attended all the shows (42 in total !!), the afterparties and cocktails at the "Kissing Room", and I also went backstage (dressing rooms, makeup and hair) so I have millions of photos and secrets to share with you =)
Bienvenidos a la Fashion Week de Madrid! Como Blogger Oficial de la MBFW e Instagramer de Telefónica he vivido 5 días muy intensos, en los que he podido empaparme de la moda española y las tendencias que disfrutaremos el próximo otoño-invierno 2016/17. He asistido a todos los desfiles (42 en total!!), a la fiesta y cocktail posterior en el Kissing Room, y también a backstage (vestuarios, maquillaje y peluquería) así que tengo millones de fotos y secretos que compartir con vosotros =)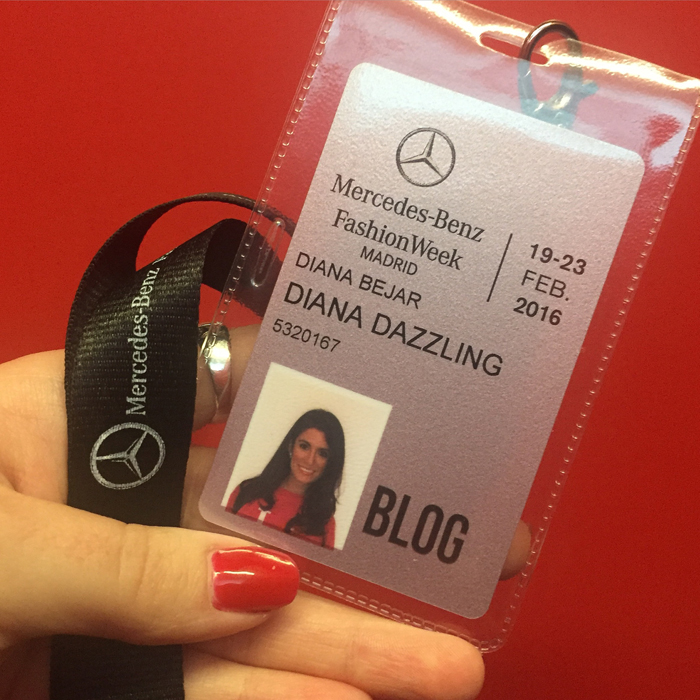 Today I want to share with you how the first day was. The week started with Davidelfin, with "Mentiras", his most patriotic collection, inspired by soccer scarves, and the shield of Spain, customized with a dolphin. David claims the Spanish patriotism and pride and asks to move it into the world of fashion. Personally, I loved the accessories, inspired by David Bowie. They are fun, full of glitter, just as I like them. I especially liked this bag, these shoes made in collaboration with Unisa, and the backpacks with the slogan "Lieben und Arbeiten" (Love and work) Freud used to say that was the solution to be happy.
Hoy empezamos con el primer día. La semana arrancó con Davidelfin, con "Mentiras", su colección más patriótica, inspirada en las bufandas de fútbol, y el escudo de España, customizado con su Delfín.  David reivindica el patriotismo y orgullo español y pide trasladarlo al mundo de la moda. Personalmente, a mí me encantaron los accesorios inspirados en David Bowie, muy divertidos, llenos de purpurina, justo como a mí me gustan! Especialmente me llamó la atención este bolso, estos zapatos hechos en colaboración con Unisa, y las mochilas con el lema "Lieben Und Arbeiten" (Amar y trabajar) que para Freud era la solución para ser feliz.
The joy and color came with Agatha Ruiz de la Prada. Stuffed shorts and shoes, metalized fabrics, colorful stockings, striped shirts, velvet, midi skirts, and of course her famous hearts, with a seventies aesthetic mixed with the imagination of American universities and refences to Keith Haring, with alien figures . The show was so much fun, that models and assistants ended up dancing on the catwalk to the beat of "Dancing in the Street". After the show, at the Kissing Room, I met Cristina Cifuentes, president of the Community of Madrid.
La alegría y el colorido llegaron de la mano de Agatha Ruiz de la Prada. Shorts y zapatos de peluche, telas metalizadas, medias coloridas, camisetas de rayas, terciopelo, faldas midi, y por supuesto sus famosos corazones, con una estética setentera mezclada con el imaginario de las universidades americanas y haciendo referencia a Keith Haring, con figuras extraterrestres. El desfile fue tan divertido, que modelos y asistentes terminaron bailando sobre la pasarela al ritmo de "Dancing in the Street". Tras el desfile, en el Kissing Room, coincidí con Cristina Cifuentes, presidenta de la Comunidad de Madrid.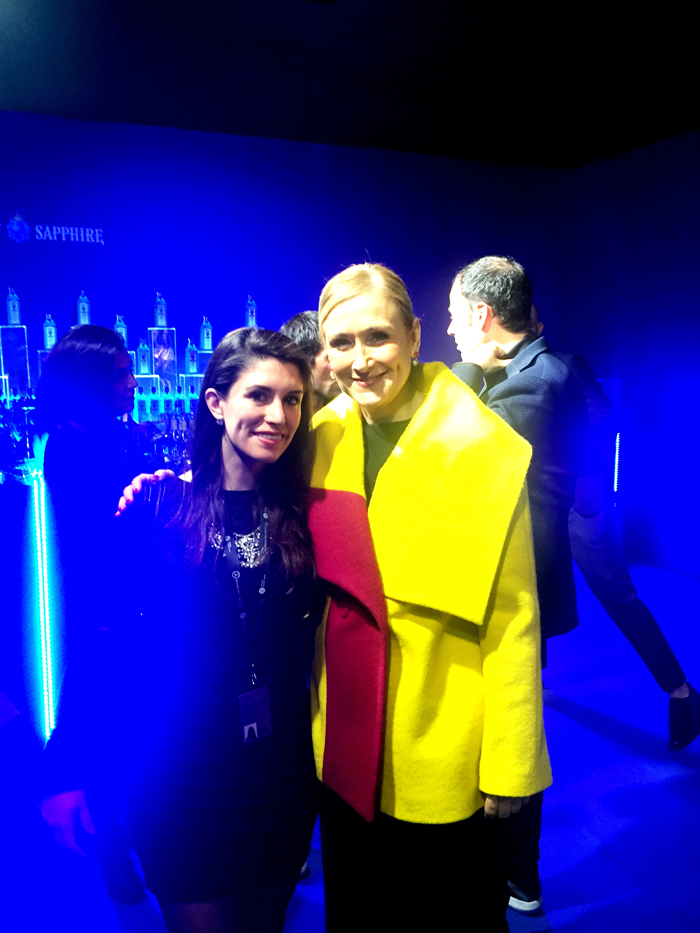 We continue with the cosmopolitan collection of Juanjo Oliva. With floral prints, sashes, jewelry belts, he presents diaphanous dresses, coats, and sets with overlapping lengths and mix of fabrics, inspired by Mexico, Turkey, Russia, Japan, China …
Seguimos con la colección cosmopolita de Juanjo Oliva. Con estampados florales, fajines, cinturones joyas, nos presenta vestidos vaporosos, abrigos, y conjuntos con longitudes superpuestas y mezcla de tejidos, inspirados en México, Turquía, Rusia, Japón, China…
Hannibal Laguna is one of my favorite designers. It was a pleasure to enjoy his collection, and to meet him after his presentation. "Goldenmille" inspired Madrid's Golden Mile, presents precious long and short dresses, cut on the bias, frilly, peplums, draping and necklines mixing chiffon, lace and metal fixtures in black, champagne and silver tones… as always highlighting the femininity of women.
Hannibal Laguna es uno de mis diseñadores favoritos. Fue un placer disfrutar de su colección, y conocerle tras el desfile. "Goldenmille" inspirada en la madrileña Milla de Oro, nos presenta preciosos vestidos largos y cortos, cortados al bies, con volantes, péplums, drapeados y cuidados escotes mezclando gasa, encaje y apliques metálicos en tonos negros, champán, plata… y como siempre realzando la feminidad de la mujer.
Duyos has presented a very feminine collection, full of brocades, brightness and transparencies. The inspiration are the wines of Viña Luparia, mixed with the tales of wolves. We found three predominant colors, such as three types of wine: red, rosé and white. The grunge touch was the music of Nirvana.
Duyos nos ha presentado una colección muy femenina llena de brocados, brillos y transparencias cuya fuente de inspiración son los vinos de Viña Luparia, mezclados con los cuentos de lobos. Encontramos así tres tonalidades predominantes, como tres tipos de vino: tinto, rosado y blanco.  El toque grunge lo puso la música de Nirvana.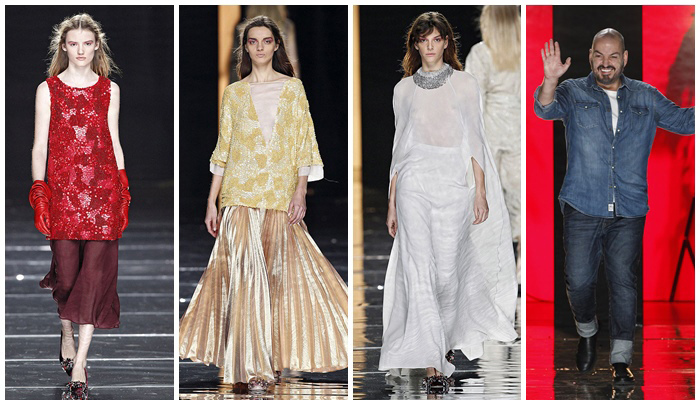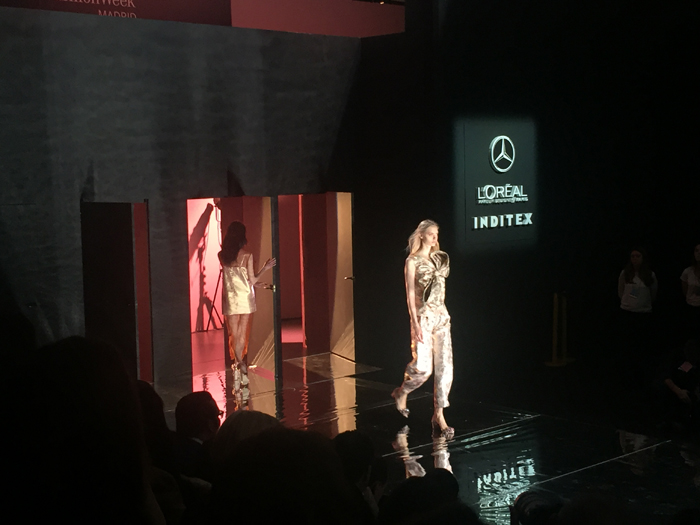 Angel Schlesser proposes an urban woman seduced by the comfort of pajamas, the lingerie aesthetics and a return to satin and pictures in mohair, with black and white, beige, camel and navy tones.
Ángel Schlesser nos propone una mujer urbana seducida por la comodidad del pijama, la estética lencera y  con una vuelta al satén y a los cuadros en mohair, con tonos blanco, beige, camel, marino y negro.
And we ended the first day with Francis Montesinos and his "Fashion Reliquary" He wanted to pay homage to all the masters of Spanish fashion that have left a mark on him: Manuel Piña, Jesus del Pozo, Elio Berhanyer, Pertegaz, Paco Rabanne, Mario Fortuny and Cristóbal Balenciaga. The show began with a flamenco performance , with dancers Amador Rojas and Eduardo Guerrero, and closed with a wedding gown with a conical flower-covered headdress.
Y terminamos el primer día con Francis Montesinos y su "Fashion Reliquary" con el que ha querido rendir un homenaje a todos los maestros de la moda española que han dejado una huella en él: Manuel Piña, Jesús del Pozo, Elio Berhanyer, Pertegaz, Paco Rabanne, Mario Fortuny y Cristóbal Balenciaga. El desfile comenzó con una actuación de baile flamenco, con los bailaores Amador Rojas y Eduardo Guerrero, y cerró con un traje de novia con un tocado cónico cubierto de flores.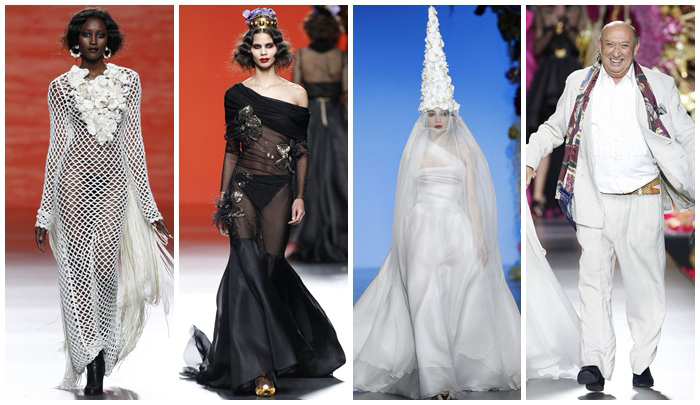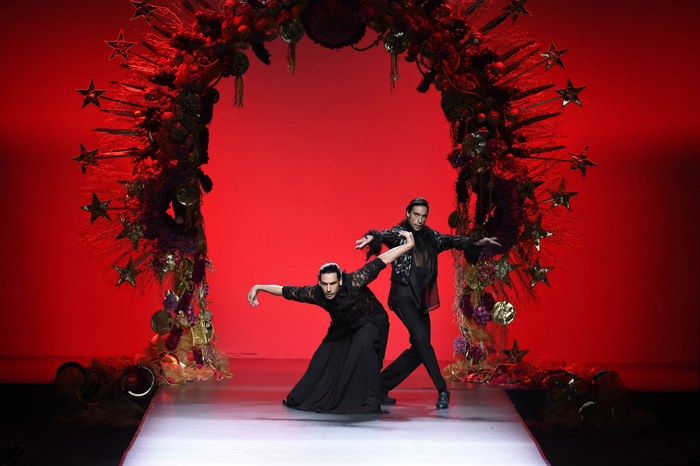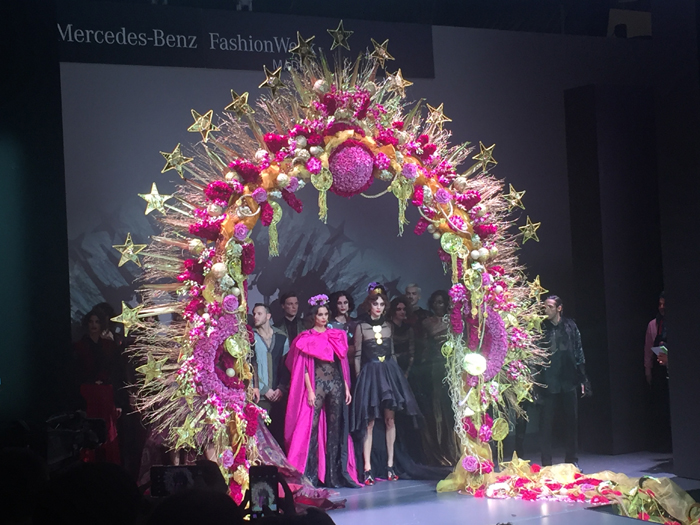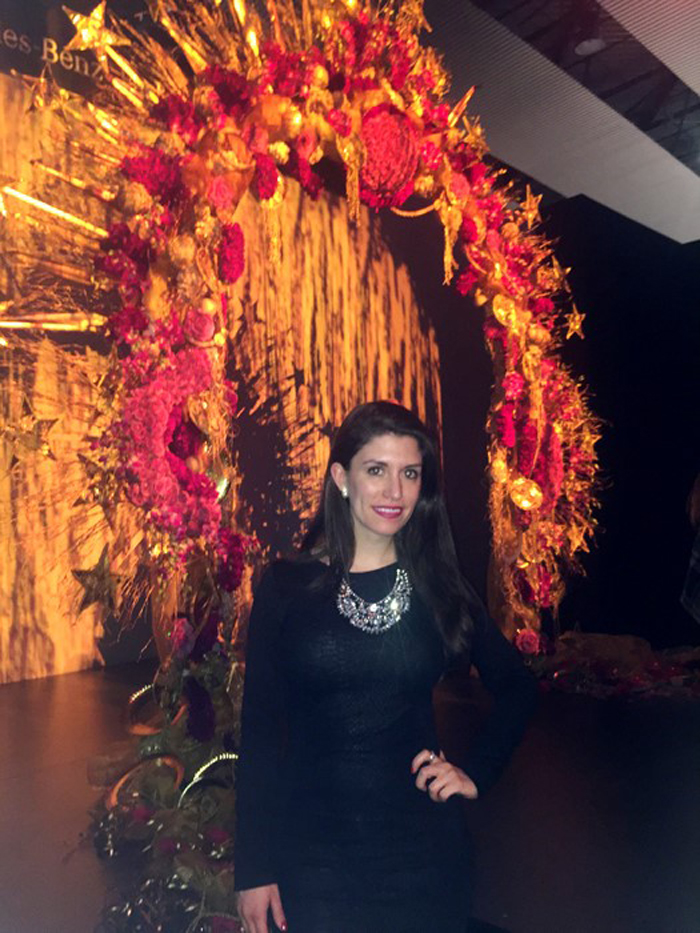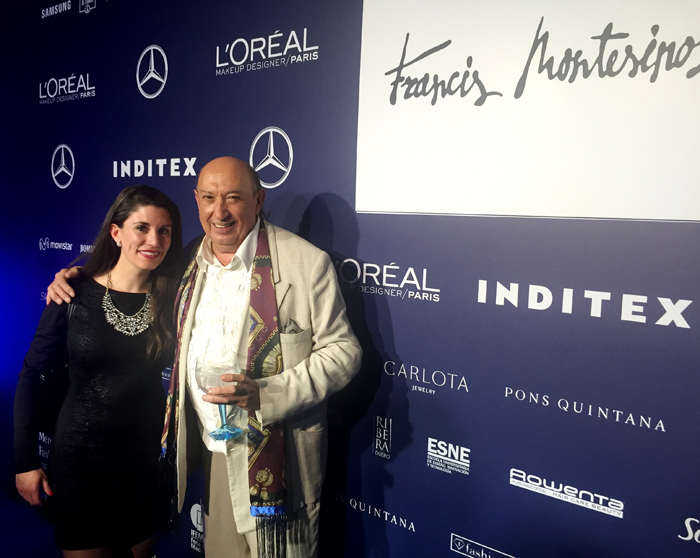 After the shows … a toast to the Spanish fashion in the Kissing Room and the beautiful blue room "The Art Room" by Bombay Sapphire. So far, that the first day of Fashion Week in Madrid, I hope you enjoyed it as much as I did! We continue tomorrow, with eight new shows!!  xoxo
Después de los desfiles… un brindis por la moda española en el Kissing Room y la preciosa habitación azul "The Art Room" de Bombay Sapphire. Hasta aquí el primer día de la Fashion Week de Madrid, espero que os haya gustado tanto como a mí! Seguimos mañana, con ocho nuevos desfiles!! Besitos!
I was wearing:
H&M black-snake dress
Dior earrings
Happiness Boutique necklace
NineWest bag
Forever21 ankle boots