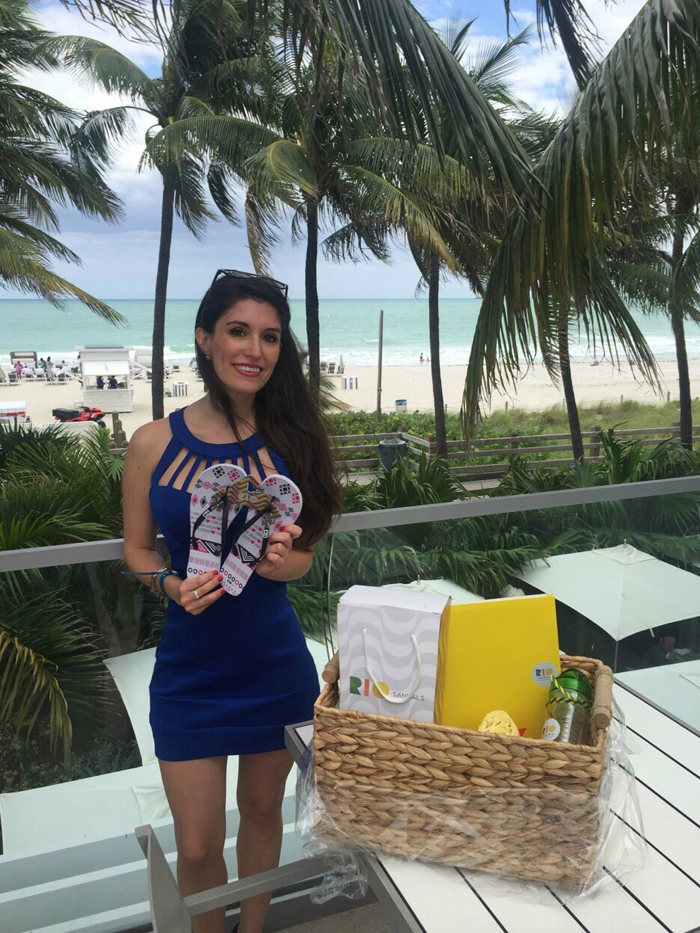 Today, I want to talk to you about "Rio Sandals" a new brand of sandals that just arrived to the US directly from Brazil. These flip-flops are inspired by the tropical forests, sunsets, white sand beaches and crystal clear water of Rio de Janeiro, known as "the marvelous city", and they truly represent the relaxing and casual Carioca lifestyle.We had amazing day #RelaxwithRio at the Fontainebleau hotel. First, we had lunch at La Côte restaurant, with great views of Miami Beach, while enjoying a mango caipirinha, salmon, mahi and delicious brigadeiros. I really felt like a Carioca!
After lunch we continue relaxing in the Lapis spa, where I got a great massage, and I used my RioSandals for the first time =)
What I like the most about RioSandals, is that you can customize your own sandals: there are plenty of colors to choose from, so you can make a perfect combination to match your outfit. In addition, with then line #Made4U you can choose the pattern, pins, and even add your own photo, phrase or design! I think it's a super original idea, perfect for a special gift. Moreover, its composition is 100% rubber, so they are very strong and comfortable at the same time.
I already have my customized sandals with my name and blog colors… they are beautiful! I love them!
The first RioSandals store is now open in Miami, at Dadeland Mall. If you do not live in Miami, don't worry, very soon you will be able to buy them online. If you want your customized sandals, now you can get a 50% discount by showing this post at the store (maximum 2 pairs per purchase) Don't forget to send me a picture of your designs … I want to see how beautiful they are! Beijinhos
Hoy os quiero presentar "Rio Sandals", una nueva marca de sandalias recién llegadas a Estados Unidos desde Brasil. Estas chanclas están inspiradas en los bosques tropicales, las puestas de sol, y las playas de arena blanca y agua cristalina de la "Ciudad Maravillosa", Rio de Janeiro, representando el estilo de vida relajado y casual de los cariocas.
Para conocer su colección, pasamos un día estupendo #RelaxwithRio en el hotel Fontainebleau. Primero almorzamos en el restaurante La Côte, con unas estupendas vistas a Miami Beach, mientras disfrutamos de una caipiriña de mango, salmón, mahi y unos deliciosos brigadeiros. ¡Realmente me sentí carioca!  Después del almuerzo continuamos relajándonos en el spa Lapis, donde me dieron un masaje espectacular, y estrené mis nuevas sandalias =)
Lo que más me gusta de RioSandals, es la posibilidad de personalizar tus sandalias: hay infinidad de colores para elegir, así puedes crear combinaciones a juego con tu outfit. Además, con su línea #MADE4U puedes elegir el estampado, los pines, incluso añadir tu propia foto, frase o diseño! Me parece una idea súper original, perfecta para hacer un regalo especial. Además, su composición es 100% goma, por lo que son muy resistentes y cómodas a la vez.
Yo ya tengo mis sandalias personalizadas con mi nombre y los colores del blog… ¡Son preciosas! ¿Qué os parecen?
La primera tienda Rio Sandals ya está abierta en Miami en el Dadeland Mall. Si no vives en Miami, tranquilo, muy pronto las podrás comprar en su página web. Si tu también quieres tus sandalias personalizadas, ahora las puedes conseguir con un 50% de descuento, enseñando este post al realizar tu compra (máximo 2 pares por compra) No os olvidéis de enviarme vuestros diseños…quiero ver qué bonitas os quedan!  Beijinhos

This is a sponsored conversation written by me on behalf of RioSandals. The opinions and text are all mine.